mHelpDeskの概要
mHelpDesk is the #1 easiest and most powerful software solution for your field service business, automating everything from first customer contact all the way to getting paid. We provide our customers with mobile and online tools that are unmatched in performance, reliability, and functionality. We've packed the best tools into one extremely easy-to-use and affordable package that requires no big upfront investment. And we have in-house product experts to get you up and running immediately.
mHelpDeskの対象ユーザー
mHelpDesk is perfect for established and growing small/medium businesses who need better organization, mobile access, and more efficient scheduling and billing processes.
mHelpDeskの動画と画像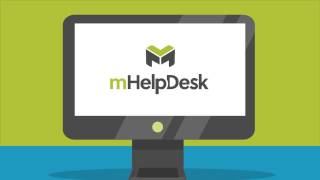 mHelpDeskの機能・特徴
CRM
GPS
IT資産管理
QuickBooks統合
アクセス制御・許可
アクティビティの追跡
アクティビティ・ダッシュボード
アポイントメントのスケジューリング
アラート/通知
インシデント管理
オンライン予約
オンライン時計
オンライン時間追跡
カスタマー管理
カレンダー同期
カレンダー管理
コメントライブラリ
サプライヤー管理
サードパーティ統合
サービスカタログ
サービス履歴
サービス水準合意 (SLA) 管理
スケジューリング
セルフサービスポータル
タスク管理
チケット管理
テンプレート
テンプレートのカスタマイズ
データのインポート/エクスポート
データの可視化
ドキュメント管理
ドラッグ・アンド・ドロップ
ビジネスプロセスの自動化
フィールドのカスタマイズ
フォーム管理
ブランディングのカスタマイズ
プロジェクト管理
ベンダー管理
マルチロケーション
メンテナンスのスケジューリング
メンテナンス管理
メール管理
モバイルアプリ
モバイル・アクセス
モバイル・アラート
モバイル署名キャプチャ
リアルタイムデータ
リアルタイム・スケジューリング
リアルタイム・レポート
リマインダー
リリース管理
ルーティング
レポートのカスタマイズ
レポートサマリー
レポート/分析
ワークフロー構成
予防メンテナンス
住宅点検
作業原価管理
作業発注作成
作業発注管理
価格設定管理
修理チケット
割引管理
原価データベース
原価追跡
受け入れ管理
商業・工業の電力請負業者向け
固定資産管理
在庫最適化
在庫監査
在庫管理
契約・ライセンス管理
定期アポイントメント
従業員スケジューリング
従業員データベース
従業員管理
承認プロセス管理
技術者管理
施設スケジューリング
時間・支出追跡
時間追跡
機器管理
機器追跡
求人スケジューリング
求人管理
決済処理
派遣管理
点検管理
現地料金回収
画像の追加と編集
経理統合
自動スケジューリング
自動タイムキャプチャー
自動見積もり
見積もり
見積もり、概算
設定の管理
請求、インボイス
請求書管理
財務管理
資産追跡
車両管理
連絡先データベース
電子決済
電子署名
顧客データベース
顧客履歴
顧客管理
Mark
アメリカのCEO
認証済みLinkedInユーザー
Our experience has been extremely positive. No other company would go this far for a customer.
製品を使ってみた感想: We are completely cloud-based, completely mobile, our response time has decreased and profits have increased. We have found a vendor/partner that listens. We truly have an integrated product from end-to-end. Service calls/requests for quotes come in, an excellent work product goes out, seamlessly.
良いポイント:
The field app is very strong and that is a must. The admin provides a true workflow experience. The software is as flexible as it can be, provides true integration to QB, and has cut our entry time in half. Our profits are up and communication is vastly improved. The cloud feature fits our Disaster Response plan. Their customer service is the best I have seen and we have tried many.
改善してほしい点:
Very little to dislike. They are always improving. I would like to see an inventory module, and Ajax searches would be a real improvement. But overall, they are the "best-in-class".
mHelpDeskからの返信
5 年前
Thank you for sharing your thoughts on mHelpDesk Mark! We are so happy to work with you and VIALARM.
情報技術、情報サービス, 2-10の従業員数
ツール使用期間: 2年以上
検討した類似製品:
Field Service Software for any Business to Stay Organized
製品を使ってみた感想: Overall I have had a really good experience, anytime I have ran into a problem which is not very often but my problems have been resolved in a professional and expediential matter that allowed my business to continue to operate. You can keep an open line of communication with your customers on work order status or any problems that arise during the work order.
良いポイント:
You are able to automate your business to keep a customer database, schedule and track work orders. Billing is a breeze with in the email feature you send to your customers. They can pay directly with PayPal or Credit Card account. There is even a feature to generate leads to your business. You can customize your invoices and work orders to meet your business needs. Works on mobile Apps and integrates all your invoices to quick books.
改善してほしい点:
When customers pay from your credit card account, you are only able to setup and activate one payment option at a time. It would be nice to have individual bank accounts set for different sections of your business model.
通信, 201-500の従業員数
ツール使用期間: 1年以上
With mHelpDesk, My Workflow is Always Save.
製品を使ってみた感想: I have well satisfactory experience using mHelpDesk software.
良いポイント:
I like the offline version which always keeps my work saved and secure.
改善してほしい点:
This software has not given me any issues so far.
建設, 11-50の従業員数
ツール使用期間: 2年以上
mHelpDesk/HomeAdvisor
製品を使ってみた感想: The weaknesses we struggled through for the first 2 years really left it on the back burner as far as fully implementing and incorporating it further into our customer contact operations. Resorted to doing a lot of it manually. As a CRM, it was pleasantly functional until they jacked the prices up after the HomeAdvisor affiliation came in full-bore. Home Advisor's shortfalls are a whole other dissertation.
良いポイント:
1. The calendar integration with Google worked well and the appointment processing flow was good enough. 2. Invoicing and job dollar tracking worked OK as well. Quickbooks integration came along too late for us to play with or even consider. 3. The support team is pretty responsive and helpful when available. 4. The automatic linking with HomeAdvisor worked well usually. When it did, sending out text message alerts for new leads was a nice feature.
改善してほしい点:
1. My biggest issue was communication logging. Although the customer note log was a help, it should log ALL communication with the customer. The fact that their development team couldn't get the log to reflect individual and system-generated emails was a HUGE stumbling block when trying to track customer contact instances. 2. They tried to change our package processing after we were with them for a year. Haggled out a deal, but really soured any aspect of expanding its role with us. 3. Having more than one invoice and/or email template would've been a huge plus. 4. It's integration with HomeAdvisor had its ups and downs. They couldn't seem to get on the same page as far was which HomeAdvisor account to bill for and was problematic when we closed a secondary HA account. 5. The report functionality improved a great deal, but was still not flexible enough to use effectively. That may be my issue and not leveraging the custom report capabilities well enough. It was much better lately, but the export capability was still rather limited.
mHelpDeskからの返信
3 年前
Ken, thank you for taking the time to leave a review. We're glad to hear that overall the scheduling and job tracking features work well, and that the automatic customer texting has been valuable. We're sorry to hear that the communication logging isn't as expansive as you would like -- that's something that we're considering for further development in future updates. We're thrilled to see the 5 stars for Customer Support -- that's always a top priority for us. Please give us a call or send us a chat if we can help with anything. Thanks for being a customer.
Mas Idayu
マレーシアのInformation Technology Assistant
認証済みLinkedInユーザー
石油、エネルギー, 10,000+の従業員数
ツール使用期間: 1年以上
Great helpdesk application
良いポイント:
It's elegant in its simplicity, easy to use and does what it's supposed to. As long as you're only looking to arrange projects and make invoicing and estimates, it's a great tool. There's also a smartphone app, although it's just good for the basics. Assessments, service calls, and invoices may be done quickly and easily. Managing customer information across various employment locations is a joy.
改善してほしい点:
There are instances when they provide upgrades that don't benefit my daily application use. Because they cater to a wide range of sectors and demands, I can see how the change would be beneficial. More of them being optional would be ideal. There is a noticeable lag in the application's response but not too serious.