Roofrの概要
Roofr offers accurate roof measurement reports for $10 delivered same day or you can measure it yourself using the free DIY software. Every report includes 6-pages outlining total squares, pitch, edges (including hips, valleys, ridges, flashing, and more).
Roofr also allows users to send impressive branded proposals to leads so they can stand out from the competition and sell more jobs.
Start for free now and start winning more work!
Roofrの対象ユーザー
Roofing Contractors - $10 roof measurement reports delivered same day or use the free DIY software. All reports are accurate and include all details of the roof. No fees. Unlimited users.
Roofrの動画と画像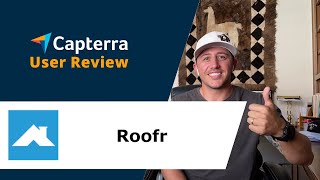 Roofrを類似製品と比較する
価格プラン
$10.00/1回限り
$18.00
$129.00/月
$12.00/月
Roofrのサポートと動作環境
サポート
メール/ヘルプデスク
FAQ/フォーラム
ナレッジベース
電話サポート
チャット
動作環境
クラウド、SaaS、ウェブベース
Mac(デスクトップ)
Windows(デスクトップ)
Linux(デスクトップ)
Chromebook(デスクトップ)
Roofrの機能
CRM
GPS
QuickBooks統合
アクティビティの追跡
アクティビティ・ダッシュボード
アラート/通知
インタラクション追跡
カレンダー管理
スケジューリング
タスク・スケジューリング
チーム管理
テンプレートのカスタマイズ
ドキュメント・ストレージ
フィールドのカスタマイズ
メール・テンプレート
モバイルアプリ
モバイル・アクセス
リアルタイム・レポート
リアルタイム更新
リード管理
レポートと統計
レポートのカスタマイズ
ワークフロー管理
作業原価管理
作業発注管理
写真キャプチャ
原料発注
商業
契約・ライセンス管理
工業
時間・支出追跡
機器追跡
求人スケジューリング
求人管理
求人追跡
派遣管理
点検管理
発注管理
空中測定
経理
経理統合
見積もり
見積もり、概算
請求、インボイス
請求書管理
連絡先データベース
電子決済
電子署名
顧客データベース
顧客ポータル
Nicholas L.
アメリカのPresident
建設, 11-50の従業員数
製品の使用期間:: 無料トライアル
代替となる類似製品:
Pleasantly Surprised - Understatement of 2020
コメント: Our business is predicated on the fact that we are precise in every measurement we make, and thus, are able to competitively provide solutions to our clients which are priced according to the market we serve. Without being thorough, replete in our ability to heavily rely upon the technologies which guide our proposal process, we would not maintain the trust we have with our clients. Roofr allows such precision, as it is embedded in their product stem to stern.
良いポイント:
We have relied heavily upon a software we've used for years, and until switching to Roofr, never had the need to look elsewhere. A friend of mine whose company also switched to Roofr recommended it to us, and I should be paying him for his recommendation. Not only is Roofr incredibly intuitive technology, it is also patterned in the same fashion as other, much more highly priced technologies, which pale in comparison to what Roofr provides.
改善点:
From everything we've seen thus far, I honestly can't recount any cons.
Susan J.
アメリカのOwner/Office Manager
建設, 2-10の従業員数
製品の使用期間:: 1~5か月
代替となる類似製品:
Easy to use and great price
コメント: Roofr has made estimating easier and faster. Roofr helps cuts down on human error.
良いポイント:
Measuring the specific building is so helpful.
改善点:
Operator error is pretty easy to log in to the homeowner portion of Roofr rather than the contractor portion.
Derrick S.
アメリカのProduction Manager
建設, 2-10の従業員数
製品の使用期間:: 1~5か月
Makes my job easier
コメント: So far so good I know this is a newer company so I am giving it a chance and hoping they improve with time and experience
良いポイント:
I like this because it is cheaper than all the other companies offering the same service
改善点:
The pitches are ofter incorrect, and need to be fixed after the order is completed. this slows our process down
建設, 2-10の従業員数
製品の使用期間:: 1~5か月
代替となる類似製品:
GREAT PRODUCT
コメント: Great. Services are good so far.
良いポイント:
Ease of functionality. I like to measure my own roofs and I've used iroofing in the past. This product is free to use for self-measuring and the price for them to measure it for me is super cheap.
改善点:
If there was a way to have those satellite images be free that would be great 😅 I get why I would have to pay for it though so as time goes I'm probably going to buy it.
Good...but not Great...yet
コメント: It does help measure a roof with fairly good accuracy from aerial satellite views. This helps on steep or difficult to measure roofs. Overall, it's a good product. Need to develop a mobile app ASAP.
良いポイント:
It's a simple program to use, literally takes less than 30 mins to become familiar with and be able to at least do basic roofs.
改善点:
The fact that it lacks a mobile app. Was unable to download an app on either an apple or android device. The software must be used within a browser.