ScriptRunnerの概要
The #1 for PowerShell management
ScriptRunner is a platform solution for automation and delegation with PowerShell. Centralizing, standardizing as well as monitoring and controlling multiple workflows effectively relieves IT operations. Administrators and DevOps can use the supplied script libraries, customize them or develop their own scripts.
ScriptRunnerの対象ユーザー
- Primary: SysAdmins and Service Desk it IT-Operations and Managed Service Provider. - Secondary: Departments and End User Self Service
動作環境
クラウド、SaaS、ウェブベース, Windows(デスクトップ)
企業情報
ScriptRunner Software
所在地:Ettlingen (ドイツ)
2016年設立
電話サポート
チャット対応有
企業情報
ScriptRunner Software
所在地:Ettlingen (ドイツ)
2016年設立
電話サポート
チャット対応有
ScriptRunnerの動画と画像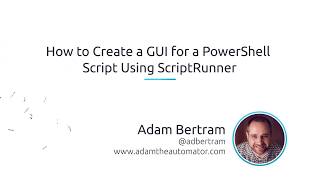 ScriptRunnerの機能・特徴
ITレポート
インシデント管理
コラボレーションツール
コンプライアンス管理
サービス水準合意 (SLA) 管理
セルフサービスポータル
ダッシュボード
メンテナンスのスケジューリング
モニタリング
リモートでのモニタリングと管理
Jeff
アメリカのCloud Administrator
認証済みLinkedInユーザー
航空宇宙産業, 5,001-10,000の従業員数
ツール使用期間: 1~5か月
Great entry point for PowerShell focused DevOps
製品を使ってみた感想: It took a little bit of work to get all the scripts organized and the workflows set up but once everything was set up, it worked really well. ScriptRunner customer service was very responsive to my questions and even provided additional documentation and suggestions.
良いポイント:
The ability to assign scripts to jr. admins and end users to run. I also like organizing the scripts into logical areas and centrally manage them from a single location. No more copying to a shared drive. The ability to integrate with Git repositories is a huge time saver. Another great feature is the ability to add a GUI interface to the scripts. This really helps with the end users and jr. administrators when they are running the scripts.
改善してほしい点:
The software adds some overhead to the system and running the scripts seem to be slow at times. The main interface seemed a little sparse. I would have liked more options available on the main interface.
AppSphereからの返信
3 年前
Thank you very much for your review!
認証済みレビュアー
エストニアのSystem Engineer
認証済みLinkedInユーザー
通信, 1,001-5,000の従業員数
ツール使用期間: 1~5か月
検討した類似製品:
Interactive script running engine
製品を使ってみた感想: We try to use ScritpRunner for administering our hundreds of Office365 customers. All this Powershelln that we need for Office365, but not all Helpdesk users can manage without Scriptrunner.
良いポイント:
It have quite ok user interface It's quite easy to create interactive scripts - example: choose customer, choose user and then take action with it.
改善してほしい点:
User interface if limited No easy way to input-output CSV files
ScriptRunner Softwareからの返信
2 年前
Thank you for your feedback! - Your ScriptRunner Team
Markus
ドイツのIT System Administrator
認証済みLinkedInユーザー
電気・電子機器製造, 501-1,000の従業員数
ツール使用期間: 2年以上
Easy living for your company without IT Administration knowledge
製品を使ってみた感想: A lot of kinds
equal, ACL, Filesharing, AD and reboot the servers ( remote tsaks )
良いポイント:
No master password are necessary # other connections with sevreral systems
改善してほしい点:
Easy way to play a powershell programm as your hotline ...
AppSphereからの返信
4 年前
Thank you for your feedback!
Tobias
ドイツのIT System Engineer
インターネット, 201-500の従業員数
ツール使用期間: 6~12か月
Gutes Werkzeug für Infrastruktur Automatisierung und Delegation von Aufgaben
製品を使ってみた感想: ScriptRunner ist ein gutes Tool um wiederkehrende Aufgaben durch Skripte zu automatisieren und zu delegieren. Durch das Automatisieren und Delegieren von Aufgaben erhöhen wir die Qualität und Zuverlässigkeit der Systeme und gewinnen dadurch mehr Zeit für andere Projekte.
良いポイント:
Gute und einfache Administrationsoberfläche um Skripte in Workflows einzurichten. Mit den bereitgestellten ActionPacks lassen sich die ersten Workflows einfach und schnell realisieren, auch ohne tiefgehende PowerShell Kenntnisse. Die zentrale Speicherung der Skripte und Anbindung via Git erspart das unnötige Kopieren der Skripte auf verschiedene Systeme. Zusätzlich erhält man eine einfache Dokumentation der Skripte und kann diese mit Tags organisieren. Guter und arrangierter Support.
改善してほしい点:
Anwendungsdokumentation zum Nachlesen könnte verbessert werden, insbesondere bei neu erschienenen Funktionen. Endbenutzeroberfläche könnte besser sein.
ScriptRunner Softwareからの返信
2 年前
Vielen Dank fur ihr ausfuhrliches Feedback!
情報技術、情報サービス, 2-10の従業員数
ツール使用期間: 1年以上
Easy delegation in no time
製品を使ってみた感想: Our overall experience is a stable system that easily integrates in every IT landscape and is a must have!
After the implementation our focus shifted from : "should we really automate and delegate this" to let's automate and delegate tasks in no time.
良いポイント:
The advantage of scriptrunner is that the interface is intuitive and easy to use, you'll get used to in no time. The versatility and connectors enables you to interface and interact with almost every system, on premise, Amazon, Azure, Office 365 . Last X-mas we even automated our x-mas tree lights with ScriptRunner and PowerShell, this was really fun!
改善してほしい点:
One disadvantage is that it can cause an addiction to PowerShell and make you automating everything.
ScriptRunner Softwareからの返信
2 年前
Hey there! Thank you so much for your positive feedback.