Targetprocessの概要
Targetprocessは、SAFeやその他のフレームワークでアジャイルのスケーラビリティをネイティブにサポートするアジャイル・ポートフォリオおよび作業管理ソリューションです。Azure DevOpsのようなチームベースのツールとの双方向の統合を提供します。Targetprocessは、企業のビジネス・アジリティの実現と組織全体のバリュー・フローの可視化をサポートします。
ガートナーのアジャイル・エンタープライズ・プラニング・ツールに関するマジック・クアドラントで選出されました。
Targetprocessの対象ユーザー
Targetprocessは中規模および大規模の企業に最適です。金融および石油ガス業界のITおよび非ITプロジェクトを効果的に管理するために使用できます。
動作環境
クラウド、SaaS、ウェブベース, Mac(デスクトップ), Windows(デスクトップ), Windows(オンプレミス), Linux(オンプレミス), Android(モバイル), iPhone(モバイル), iPad(モバイル)
Targetprocessの動画と画像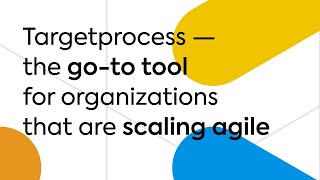 Targetprocessの特徴
ITプロジェクト管理向け
KPIモニタリング
アイデア管理
アジャイル方法論
アンケートおよびフィードバック
カンバンボード
ガントチャート、タイムラインビュー
コラボレーションツール
ステータス追跡
スプリント計画
タスク管理
ダッシュボード
ダッシュボードのカスタマイズ
テンプレートのカスタマイズ
テンプレート管理
バックログ管理
ファイル共有
プロジェクト計画
プロジェクト計画/スケジューリング
ポートフォリオ管理
マイルストーン追跡
リスク・マネジメント
リソース管理
リリース計画
レポート/分析
ワークフロー管理
予算設定、予測
予算運用
事業予測
優先順位付け
報告、プロジェクト追跡
変更管理
広報管理
戦略的計画
時間・支出追跡
残工事原価の追跡
目標管理
製品ロードマッピング
要件管理
視覚化
Mark G.
アメリカのExecutive Director of Agile Management and Technology
認証済みLinkedInユーザー
情報サービス, 1,001-5,000の従業員数
ツール使用期間: 1年以上
検討した類似製品:
Powerful Software for Agile Organizations, Could Improve in Usability on Higher End Functionality
製品を使ってみた感想: We are using Targetprocess in our daily Agile practice. Our developers and Product Owners are trained in its use, and it is a huge piece of our practice. The software is key to our Agile efforts, and is relatively easy to set-up and use. However, the buyer should be aware that unless you deploy one of the pre-built frameworks, you will be starting with a clean slate, and will have to build your own structures, and this can take a bit of thought and time. I enjoy using the software, and we intend to renew our license for the next year, and will be making efforts to expand the user base. The ability to define different workflows for different teams is very powerful, as is the Request Portal, and other more DevOps type features. Story card aging is another nice feature that we now implement through custom rules.
良いポイント:
Excellent pricing structure, easy to set up, and implementation/training professional services are first rate. The software is powerful and can handle various different approaches to Agile/Agile Scrum, and comes with pre-built solutions for frameworks like SAFe. Our organization was up and running in little time.
改善してほしい点:
Some of the more powerful features, such as creation of rules could be more straightforwardly implemented. Some features have a "coding" feel to them that could improve in usability, user-friendliness. The software is sensitive to hierarchical structure of Agile entities, and you have to get this right. The ability to move/transform entities into different levels of the hierarchy could be improved, and sometimes can disconnect entities from the hierarchy, forcing the user to reconnect them manually.
認証済みレビュアー
アメリカのChief Digital Officer
認証済みLinkedInユーザー
マーケティング、広告, 51-200の従業員数
ツール使用期間: 2年以上
検討した類似製品:
Powerful agile project management tool
製品を使ってみた感想: We started small with one client and project, then slowly added all our clients and projects. Some clients had other requirements and TP was easily able to handle what we needed as we expanded it's usage into sprint planning, daily check in, project planning, releases, automated reporting, etc. What I like best is the confidence it gives me that it will be able to grow with our needs into the future.
良いポイント:
As our organization continues to grow and have more complex needs, Targetprocess can easily handle whatever our needs are and helps us to grow using standardized methods no matter the project. Also, we have many creative people in the tool and it's user friendly for the non-technical types too.
改善してほしい点:
It's great power can also be a weakness, as getting it setup and configured requires planning offline, team alignment and understanding before moving the workflow to a digital tool like Targetprocess. Having someone who understands Agile and programming is best to get this setup for you as its so customizable it can be intimidating.
認証済みレビュアー
ルクセンブルクのDirector, Enterprise PMO
認証済みLinkedInユーザー
コンピュータ・ゲーム, 1,001-5,000の従業員数
ツール使用期間: 1年以上
My experience with Targetprocess
製品を使ってみた感想: We are using Targetprocess mostly for Product Backlog management. It helps us to visualize backlogs of different teams inside of one product and create a "big picture". Service organisations are using Kanban practices and it perfectly solves prioritization and backlog management issues.
良いポイント:
- Flexibility of the tool, customization options - Ability to create any kind of process workflow - Out of the box Kanban metrics - Representation of data on views and boards in any kind of form, for different stakeholders - Visual cards and thier options - Ability to automate process steps with web hooks and metrics
改善してほしい点:
- Timeline is not useful - Interdependencies management is poor - Reporting engine, options are limited - Customisation of entity view is not possible - Access management options is limited - Lack of capacity/resource management functionality - Lack of Portfolio management (cost management, portfolio roadmaps, strategic dashboard, what if analysis)
認証済みレビュアー
アイスランドのOffice Administrator
認証済みLinkedInユーザー
人材, 51-200の従業員数
ツール使用期間: 1~5か月
A very good product
製品を使ってみた感想: At first, I was rather overwhelmed to be honest. However, the more I use it, the more I appreciate the collaborative aspect and how, if handled properly, it helps making sure that we keep track of a variety of projects and tasks, to the minutest if details, if need be. I also appreciate the simplicity in terms of layout, it helps with maintaining focus, if this makes sense. Overall, I am glad we have it as an integral part of our admin department.
良いポイント:
I like how flexible TP is, and how it allows the whole team to keep track of projects, tasks, events in the making as well as course scheduling, purchase requests and orders, follow-up's - basically anything and everything we need to keep tabs on in order to ensure smooth workflow in the company as a whole. When I started working with it, I used to think about it as the less hip version of Trello, although admittedly this does justice neither to TP, nor to Trello.
改善してほしい点:
Since it is so flexible, TP takes quite some time to get used to and to find one's way around in. I am sure it is easy to get way overwhelmed by it, too, but luckily my onboarding layed specific emphasis on all the supportive software we use to make workflow as effortless as can.
Aaron S.
オーストラリアのSoftware Development Manager
運輸、トラック、鉄道, 11-50の従業員数
ツール使用期間: 1年以上
検討した類似製品:
Excellent alternative to JIRA
製品を使ってみた感想: We used JIRA for several years and it's good, but the lack of proper integrated hierarchy means organising 10,000+ items is just impossible. Even 3rd party plugins dont help much. The UI is slow and unattractive and after 6 months trying to get JIRA Porfolio to work (a cool idea!) I could never get it to and the response from Atlassian was disappointing overall.
The UI is much, much better in Target Process and
良いポイント:
* Responsive UI * Adding many stories at once is easy so doesn't interrupt your flow * Incredible customer support responsiveness * Dashboards are 10x better than anything in JIRA * Reports are built in and very well designed, things you have to buy from 3rd parties in JIRA (if you even can)
改善してほしい点:
* Roadmapping is harder than it looks, some planning features missing means i can't throw away my gantts just yet but it's getting close * Search results have way too much white space, can be hard to find exactly what you're looking for - JIRA was better at this * Difficult to learn the filtering side of things for anything more than basic needs (but their customer support team are amazingly supportive on this, even writing a script for me immediately to address my individual need). Oh, this is meant to be the con section isn't it. ;-) * Workflows aren't quite as customisable as JIRA, such as setting triggers and custom screens