ScreenCloudの対象ユーザー
We work with any business or organisation that wishes to communicate using screens. So they could be small business, enterprise, startups, retail, hospitality, places of worship, education, etc.
ScreenCloudの概要
Digital signage doesn't have to be complicated. ScreenCloud's digital signage software makes it easier than ever for you to put meaningful content on any screen, in any location. Use it to control one screen, or a thousand, from anywhere in the world.
Powered by a cloud content management system, ScreenCloud fits in to your existing smart systems so you can check the latest news and company updates, track employee communications and power data visualizations through one central medium.
ScreenCloudの詳細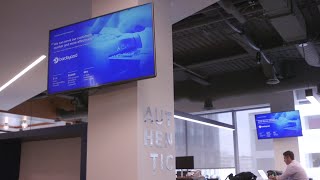 Play
ScreenCloudを類似製品と比較する
価格プラン
$24.00/月
$20.00/月
$10.00/月
$9.00/月
ScreenCloudのサポートと動作環境
サポート
メール/ヘルプデスク
FAQ/フォーラム
電話サポート
チャット
動作環境
クラウド、SaaS、ウェブベース
Mac(デスクトップ)
Windows(デスクトップ)
Android(モバイル)
iPhone(モバイル)
iPad(モバイル)
トレーニング
オンラインライブ配信
ウェビナー
ドキュメンテーション
ScreenCloudの機能
API
WYSIWYGエディタ
XML/RSS
アクセス制御/許可
アクティビティ・ダッシュボード
アラート/通知
イベントカレンダー
インタラクティブコンテンツ
ウィジェット
オフラインアクセス
キャンペーンのスケジューリング
コンテンツのスケジューリング
コンテンツライブラリ
コンテンツ管理
サードパーティ統合
スケジューリング
ソーシャル・メディア統合
テンプレートのカスタマイズ
テンプレート管理
デジタルサイネージ
デジタルメニューボード
データのインポート/エクスポート
データセキュリティ
ドラッグ・アンド・ドロップ
ビジュアルエディタ
ブランディングのカスタマイズ
プレイリスト管理
マルチメディアサポート
マルチロケーション
マルチ画面サポート
メディアライブラリ
モニタリング
モバイルアクセス
ユーザー管理
リアルタイムデータ
リアルタイム・モニタリング
リアルタイム更新
リアルタイム通知
リモートアクセス/コントロール
リモートディスプレイ管理
レイアウトおよびデザイン
レポートと統計
動画サポート
動画ストリーミング
動画管理
広告管理
画像ライブラリ
監査証跡
自動スケジューリング
自動更新
Fabian M.
Marketing and Communications Manager
教育管理, 51-200の従業員数
製品の使用期間:: 1年以上
総合評価

使いやすさ

機能

カスタマー・サポート

価格の妥当性

お勧め度
投稿者のソース

レビュー投稿日:2019/6/10
"Real-Time automated Digital Signage"
コメント: It allows real-time and automated information about events and happenings at our school.
良いポイント: We use screen cloud to display live Twitter and Instagram feeds throughout our Campus.
The interface is clean, easy to use and accessible via a web browser from everywhere.
Lots of additional app integration are available and being added regularly.
The Screencloud staff is very responsive and helpful.
What I particularly like is the clean design of the displayed apps. It looks very professional.
改善点: Ideally, I would like even more customization on the look and fell of certain apps. But overall there is nothing I dislike so far.
投稿者のソース

レビュー投稿日:2019/6/10
Carissa N.
Communications Coordinator
ホスピタリティ, 51-200の従業員数
製品の使用期間:: 1~5か月
総合評価

使いやすさ

機能

カスタマー・サポート

価格の妥当性

お勧め度
代替となる類似製品:
投稿者のソース

レビュー投稿日:2021/4/19
"ScreenCloud is a No Brainer!"
良いポイント: I brought on digital signage to our Manufacturing company as a way to reach more employees with announcements and etc. I first want to say, their customer service is top-notch! I started out with a free trial because I wanted to ensure I liked the system and wanted to ensure the back end was easy to use before we purchased it outright. I was nearing the end of my trial and they actually reached out to me and wanted to see if I would be purchasing or if I wanted to keep the trial going a little longer. I needed the trial a little longer so I could show it to my bosses to ensure it was something they could justify paying for. It's a great program and super easy to use!
改善点: I really wish I could organize the canvases I create in the Canvas app. It would be great to be able to organize them based on sizes (because I am utilizing different layouts for different screens and that requires different sizes) Right now I have to search through all of my canvases to find the right one instead of being able to go to a specific folder.
投稿者のソース

レビュー投稿日:2021/4/19
Charlie S.
Systems Administrator
教育管理, 501-1,000の従業員数
製品の使用期間:: 2年以上
総合評価

使いやすさ

機能

カスタマー・サポート

価格の妥当性

お勧め度
投稿者のソース

レビュー投稿日:2021/7/15
"ScreenCloud - Basic Digital Signage for Schools"
コメント: We are using this for digital signage in our school buildings. Daily updates and school spirit content are rotated on a playlist.
良いポイント: The interface and setup is generally pretty easy. We have several devices running ScreenCloud across multiple buildings and once it's set up, it just works.
改善点: The interface of the editor is a bit simplistic, and there aren't very many supported content layouts.
投稿者のソース

レビュー投稿日:2021/7/15
Mitch O.
Nunya
建設, 501-1,000の従業員数
製品の使用期間:: 1~5か月
総合評価

使いやすさ

機能

カスタマー・サポート

価格の妥当性

お勧め度
"Great potential but a lot still to develop"
コメント: This is just used as our entry way marketing material. This has been more of a head ache than it should have been.
良いポイント: Ease of use is a fact. I liked the layouts and basic idea of this product. That was about it.
改善点: Needs more native apps. Not a very "smart" program (i.e. have pictures in a custom zone to a special size - this requires me to go back to marketing team to re-edit the photos down to what the app can handle. This should be done as part of the program to allow for overall easier use).
While the support team is quick to respond, they missed the mark greatly in actually addressing the issues and are rather snarky when you point out the pitfalls of the program. There are misspellings in the warnings that pop-up throughout their app. It is all around a work in progress.
ベンダーからの回答
ScreenCloudが2019/10/22に提供
Hi Mitch, this is Adam, the Head of the Support team at ScreenCloud. I'm really sorry you've been experiencing these issues. We take your feedback seriously, so thank you so much for taking the time to share this with us.
We're always trying to improve our app and stay on top of an agile work environment and sometimes we don't meet the standards we want to achieve for our customers.
Although we've built ScreenCloud to optimize your images to look at their best for your screens, in some cases you'll need to edit the dimensions of the image to capture the area you want to show the most. To make this easier, we've been developing a new app to help you do just that. We've also been revising our on-boarding experience to share the good practices as early as possible.
I'd really appreciate it if we had a call to get to the bottom of this and also show you what we've been working on. I'll make sure to personally reach to you.
Cameron M.
Intern
物流とサプライチェーン, 51-200の従業員数
製品の使用期間:: 1~5か月
総合評価

使いやすさ

機能

カスタマー・サポート

価格の妥当性

お勧め度
代替となる類似製品:
"ScreenCloud is very easy to use and the customer service is great!"
コメント: I enjoy ScreenCloud a lot. It livens up the workplace and is easy to use. The customer service was great and they seem to really care about their customers.
良いポイント: When looking for a digital signage software, ScreenCloud was a little bit more expensive per screen than competitors, but in my opinion, a lot more easier to understand and use. Also, uploading your own videos and pictures is easy along with scheduling times for certain playlists. The customer service was also phenomenal compared to other software. I would email someone about a question, and then 30 minutes later I would have an answer! The team at ScreenCloud was very helpful and worked with us for a while in order to make sure we understood what we were buying and to help us understand all the different parts of the software.
改善点: The canvas feature has limited customizability and the app store doesn't have a ton of new apps. Using internal links is also not possible at the time but it seems like other services also do not have that feature. However, from talking to customer support, it seems like they are working on new apps and improvements all the time.