WellnessLivingの概要
WellnessLiving's all-in-one business management software equips the fitness & wellness industry with the tools, support, & resources needed to manage & grow their business. Offering flexible settings
続きを読む
& dynamic tools like online booking, automated marketing, rewards, website widgets, advanced reporting, mobile apps, and client & staff management, all on one convenient platform, to streamline business operations. It's the only software you need to attract, convert, & retain more clients.
表示を減らす
WellnessLivingの対象ユーザー
Class, event, membership, or appointment-based businesses looking for an affordable, reliable, easy-to-use platform to manage & grow their business and take their client experience to the next level.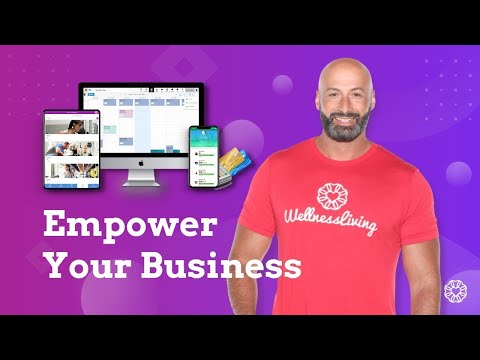 WellnessLivingの導入をお考えですか?人気ある競合製品と比較検討してみましょう。
Lucie
Pilates Studio Owner
認証済みLinkedInユーザー
健康、ウェルネス、フィットネス, 2-10の従業員数
ツール使用期間: 1年以上
So Glad I Made the Switch
動画プレイヤーで日本語字幕を表示できます
Justin
アメリカのManaging Partner
認証済みLinkedInユーザー
Fantastic software that is totally customizable to my business. Great service too.
製品を使ってみた感想: Simple, customizable, and easy to use with great support. From my experience there is no service that even compares. Between the adaptable technology, amazing support, and ease of use I couldn't be happier. I hope every gym uses them, except my competitors.
Thank you, Wellness Living for making the success of my gym much easier, and for all your support.
良いポイント:
I've been with Wellness Living for about 2 ½ years now. I've used multiple softwares at my gym in the past including EZ Facility, Zen Planner, and Mindbody. I've definitely had experience with other options. I must tell you, I have no intention of ever going back. Wellness Living has outperformed every other service I've ever used on every level. Every other service expected me to change my business to accommodate their software! That seemed crazy to me. Wellness Living adapted their software to my business's needs. That was huge for my business. On top of that, the app is fantastic, it works seamlessly and my clients love the ease of use for booking an appointment and purchasing additional services and products. Their support is second to none if I have a question or an issue it's never difficult to find someone and get it resolved quickly. The reporting is completely customizable which I love. The rewards program is easy to implement and has been fantastic for incentivizing the behaviors that grow our gym. The SEO boost I received from starting with Wellness Living has been great and made my job MUCH easier. Along the digital lines, I also have to say that their data migration was the easiest I've ever experienced. They handled everything. If you've ever experienced the typical nightmare of data migration you know how huge a benefit that is.
WellnessLiving Systemsからの返信
5 年前
Hi Justin! Thanks for your support and for taking the time to leave us a review. We at WellnessLiving know that software that you choose should work for your business, not against you, and we work hard to provide you with everything you could ever need. Our team is obsessed with making things work just the way you want, so we are so happy to hear that you¿ve had such an awesome experience with us over these past two-and-a-half years. Cheers to another!
健康、ウェルネス、フィットネス, 11-50の従業員数
ツール使用期間: 2年以上
Best club software!
良いポイント:
I have used Mindbody, Shape.net, and other software that were not as user friendly and were over-priced. I have loved the support WellnessLiving offers as well as their monthly releases with new updates and features always trying to improve their product based on feedback.
改善してほしい点:
I do not have any complaints and I would recommend Wellness Living to any business.
WellnessLiving Systemsからの返信
2 か月前
Hey Lacey, Thanks for the review, we really appreciate it! WellnessLiving is a company built around a genuine customer focus because many of the other software providers like Mindbody aren't doing it. It affects the way you use the software, it affects your costs, it affects the quality of support, and all those things have a real impact on your business and the service you deliver to your clients. One example is that we are actively taking customer requests on enhancements and on the way they'd like to see certain features work, and we're actually making those changes to WellnessLiving to give you a consistently better product. It's amazing to the see the platform's evolution with each update release as you're able to provide more service options to your clients, utilize new integrations, and customize more to your liking with things like the store, the schedule, notifications, reports, you name it. Thanks for choosing WellnessLiving! Susan A. (Customer Advocate)
認証済みレビュアー
アメリカのFlying Trapeze Artist
認証済みLinkedInユーザー
レクリエーション施設・サービス, 2-10の従業員数
ツール使用期間: 6~12か月
ソース:GetApp
検討した類似製品:
Awful all around
製品を使ってみた感想: This has been a wildly negative experience with the company itself, as they make it near impossible to cancel their service. Further, I posted a negative review, and they initially tried bribing me to remove it. I declined, and they switched to threatening me with excess fees to remove the review. This company not only has difficult to use software that my clients hate, but also horrible customer service who are willing to threaten you. Avoid at all costs.
良いポイント:
There was literally nothing that my staff, myself, and my clients enjoyed about this software or the (non-existent) customer service. Using this platform was like pulling teeth to learn, and then I had to teach all my clients how to even use it.
改善してほしい点:
The software is incredibly difficult to do even basic tasks in. Even something as small as seeing the schedule required workarounds.
WellnessLiving Systemsからの返信
11 か月前
This is not, and was never a WellnessLiving customer. We believe one of our competitors wrote this review. We have been totally unsuccessful in our attempts to find this business and have conducted an exhaustive search of our records for anyone reporting these types of issues going back to Jan 2021, with no luck. The claims made in this review are completely untrue, this is just not who we are as an organization. Unfortunately we have no further recourse with this fake review, and this site will not remove it.
I've spent years searching for a software platform that can meet all my needs. I have finally found
製品を使ってみた感想: I run group meditation sessions online. I've spent years searching for a software platform that can meet all my needs. I have finally found it!
Wellness living have been great to deal with. The onboarding process was simple and the on-going support has been amazing.
They are continually bringing out more features and I'm excited for what is to come!
良いポイント:
Wellness Living allows me to manage my clients easily, nurture them with automated emailing, integrate with my website, manage payments. For my clients it is even better. I have also got the white label app, this means I have my own app. I never thought I'd get an app so quickly and so easily. Clients love it! They can watch meditations on demand, book classes, and manage their account.
改善してほしい点:
FitVID video features and metrics could be improved. I.e. add to favourites, create playlists, improve the view Custom emails are great but missing some fields
WellnessLiving Systemsからの返信
3 か月前
Hey Anthony, Thanks for the amazing review! Your kind words really mean a lot to us. There are a lot of software companies out there, but there aren't many that can provide the full all-in-one platform you need to run just about every part of your business. We've got you covered at every step of your client journey from lead/prospect management to online store, recurring payments and the mobile client app to make it really easy for them to check their account, watch videos and make bookings. We're in this for the long haul and it's really important to us that your business is fully equipped to succeed. Please don't hesitate to contact our support team any time you need assistance, and likewise to tell us on our Community Forum about the features or enhancements you'd like to see added to the software in our coming updates. We thank you for choosing WellnessLiving and we're looking forward to our continued success, together! Susan A. (Customer Advocate)
健康、ウェルネス、フィットネス, 2-10の従業員数
ツール使用期間: 2年以上
Wellness Living Runs my business
良いポイント:
The mobile app and widgets that integrate with my website are very useful in real time scheduling and re-scheduling clients.
改善してほしい点:
The frequent updates are great but sometimes can get confusing and change things before you know how to use them in the update.
WellnessLiving Systemsからの返信
2 か月前
Hi Erin, We appreciate the great review! WellnessLiving makes it so easy to handle the different parts of your business all from a single login, and it's all on the cloud so you can do it from your phone or from your computer, even if you're not at the studio. Plus, clients can log in to the app and make bookings on their own, which helps make it easier for you track attendance and keep your classes full! It's all about harnessing the power of software to help your business grow through easy-to-use tools like our automations and client management system, mostly hands-free! We're consistently updating our software with the latest enhancements and functionality updates our customers have been asking for and that user-end focus has helped bring over a lot of studios from Mindbody. We still have our mind toward supporting small businesses and we appreciate the opportunity to work with your studio! Thank you for choosing WellnessLiving. Jayden A. (Customer Advocate)