Tidioの概要
Tidioは、ライブ・チャット、チャットボット、メッセンジャー、メールを1か所で管理できるビジネス向けのコミュニケーターです。このソフトウェアは、顧客とのコミュニケーションにかかる時間を削減し、同時に訪問者をリアルタイムで引き込むことができるため、売り上げと満足度の向上にもつながります。
また、この製品はiOSおよびAndroid機能を搭載したデバイスであれば外出先でも使用でき、あらゆるデバイスで顧客との会話をスムーズに行うことができます。
Tidioの対象ユーザー
世界中の幅広い中小企業にコミュニケーターを提供しています。何千もの企業が、顧客とのコミュニケーションにTidioを使用しています。
Tidioの料金プラン
最安値プラン:
$15.83/月
Tidioには無料プランがあり、無料トライアルも提供されています。 Tidioの有料プランは$15.83/月から利用できます。
料金プラン
無料トライアルを申し込む
Tidioの動画と画像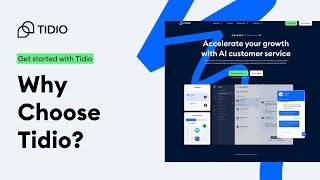 Tidioの機能・特徴
1対1メッセージング
AI/機械学習
CRM
Webサイト訪問者の追跡
アクティビティ・ダッシュボード
アラート/エスカレーション
アラート/通知
アンケート/投票管理
インタラクション追跡
オフライン・フォーム
カスタマー・サポート
クレームのモニタリング
コードフリー開発
サポートチケット管理
サードパーティ統合
ジオターゲティング
セルフサービスポータル
チケット管理
チャット、メッセージング
チャットボット
ナレッジベース管理
バーチャル・アシスタント
フィードバック管理
ブランディングのカスタマイズ
プロアクティブ・チャット
プロセス/ワークフロー自動化
マルチチャネル・コミュニケーション
メール管理
ライブチャット
リアルタイム会話
リアルタイム顧客対応チャット
リード資格
ルーティング
レポート/分析
ワークフロー管理
多言語
感情分析
拡張分析
推奨クエリ
文字起こし/チャット履歴
自動ルーティング
自動応答
自動応答装置
自然言語処理
転送/ルーティング
顧客データベース
顧客体験の管理
Darien
カナダのAssociate Pastor
認証済みLinkedInユーザー
宗教団体, 11-50の従業員数
ツール使用期間: 1~5か月
Tidio is the first chat platform I've found to be worth paying for
製品を使ってみた感想: Tidio has helped address a gap in our communication system caused by extended use of multiple inferior chat bot platforms that limited our performance and responses. With Tidio, we have seen a dramatic increase in people connecting with our team via the chat, and have been able to help address people's questions/issues quicker than ever before.
良いポイント:
Tidio offers a very simple, clean, robust and customizable interface both on their backend and on your website that helps facilitate live-chat support on a website. They offer numerous features (some I haven't used yet such as email inbox management), including a facebook messenger integration (that actually works unlike some other companies), a customizable chat window & icon, and perhaps the best feature of all - their powerful chatbot system. I cannot speak highly enough of the chatbots Tidio offers, as they give easy access to a visual builder interface to customize and build bots that can be triggered to do practically anything. Within an hour of looking at Tidio, I was hooked - and built a number of bots for our website - and within a day, saw a substantial increase in chat traffic compared to our previous platform. The beauty of the bots is that Tidio provides simple templates, that you can then customize to your needs - and the bots can be triggered on anything you want; a visit to a specific page, anytime a new person visits your site, anytime someone clicks the chat window, etc - and all of that can be accessed (in a limited fashion of course) for free. Plus as a bonus, Tidio offers native email responses to chats; so if you are like me and don't have people monitoring the chat 24/7, you can receive a notification about an incoming chat, and then respond via the chat window OR directly from Tidio via email - again, for free.
改善してほしい点:
Tidio has many features, but can be a bit daunting at first. I loved the visual builder of the chat bots, but at the same time I found it was still limited in certain areas. For example, it's all drag and drop - so the entire chatbot can start to form a jumbled mess if you're not careful. As well, they don't offer multiple triggers for one bot - for instance, if I want a bot to trigger on someone's first visit AND when someone types in a certain keyword, I can't do that. As well, their pricing structure is interesting - with three different "options" each starting at $18/month - making it so if you want to have decent chatbots, and multiple operators, and send emails, you are looking at a hefty price per month. That being said, it still is cheaper than most other offerings, and the different options help you customize your experience to tailor fit your needs
Tidioからの返信
2 年前
Hello there! It's Maciek from Tidio Support Thank you so much for such an extensive review! We really appreciate all the kind words but also the flaws you have pointed out. We strive to provide you with a product that we can really be proud of, and hearing about your positive experience, it seems like we are heading in the right direction. Thank you for taking the time to share your opinion and rate us so highly!
Marianela
パナマのWater Treatment and Environmental Management Consultant
認証済みLinkedInユーザー
化学, 51-200の従業員数
ツール使用期間: 1年以上
Tidio, an interactive platform aimed at increasing the service process and increasing sales.
製品を使ってみた感想: Tidio is an efficient and stable platform, it has analytical tools to understand the behavior of our customers and make constant improvements in our service processes, on the other hand, it integrates with third parties to increase the experience with customers and within our organization. It records visitor history and makes it easy for us to follow up to convert leads into customers, and in general, makes the job of customer service agents a lot easier.There is no doubt that TIDIO's live chat software empowers interaction effectively and offers the fastest and easiest way to help our website visitors.
良いポイント:
The Tidio implementation process is simple and fast, and after a quick installation, we can start interacting in real-time with our leads and clients or offline. The widget to interact offline indicates to the user that there is no service agent at this time and the offline status is distinguished with a brief note so that our customers know that they can contact us with a form that will allow us to serve them as soon as possible. brevity.With Tidio, the offline email notification option is very useful as it allows us to receive queries from our website visitors directly in our email. And in the event that we are online, we can receive automatic notifications about new chats, new messages, and data about visitors who enter our website.
改善してほしい点:
Tidio is a very stable and efficient platform when it comes to registering and providing a service process in real-time or offline in a web environment, for small and medium-sized companies. In general, it provides all the mechanisms to monitor for continuous improvement. It also favors analytics-based tracking, which is really the biggest advantage of using this type of platform and as long as we're not talking about large corporations, Tidio will be able to cover all our needs.
レジャー、旅行、観光, 11-50の従業員数
ツール使用期間: 1~5か月
Potential customers be aware of Tidio's no-refund policy before you purchase the product
製品を使ってみた感想: Hey there,I just wanted to share my recent experience with Tidio's refund policy that I wish I had known before purchasing their product. Unfortunately, they do not offer refunds, even if you are not satisfied with their services.I recently requested a refund after realizing that Tidio wasn't the right fit for my needs, but I was informed that they have a strict no-refund policy. This was frustrating for me, and I don't want others to find themselves in the same situation.I understand that companies have policies in place, but I believe that customer satisfaction should be a top priority. If a product doesn't work out for a customer, they should have the option to receive a refund. It's just like when you buy something from a store, and it's not what you expected; you can return it and get a refund.So, if you're considering using Tidio, I recommend being aware of their refund policy before making a purchase. It's important to make an informed decision and choose a company that prioritizes customer satisfaction.Hope this helps!
良いポイント:
The widget and chat console have a sleek and straightforward design.
改善してほしい点:
If you exceed the included 100 interactions, you'll need to pay an additional fee for the chat widget (bot) to continue automatically engaging with customers. Otherwise, your chat will simply serve as a decorative element on your website.
建築資材, 2-10の従業員数
ツール使用期間: 1年以上
Wouldn't consider any other service
良いポイント:
We have several websites that a single team of customer service agents run. Tidio makes that possible! We seldom miss any inquiries because of their awesome notification settings which are super simple to set up. With our business, it's also super important to be able to share files back and forth. Believe it or not, many chat softwares don't allow you to do that, but Tidio does. We have tried many softwares in the past but I have a hard time believing we will ever go with any of them again after finding Tidio.
改善してほしい点:
Since we use the live chat on multiple websites, it would be nice to be able to put our unique branding on the live chat for each site that we use this service for.
検討した類似製品: Zendesk Suite
Tidioに決めた理由: Shopify Inbox makes it so difficult to use the software on multiple websites. You have to log out and back in for the next project every time you get a live chat request. It was a free option with some pretty good features, but that alone made it impossible to work with when you have more than one project.
Tidioに切りかえた理由: Ultimately, we had used Tidio before and knew that we already liked it. And Tidio ended up being cheaper anyway so we just came back to you guys.
Keith
アメリカのOperations Director
非営利団体運営, 2-10の従業員数
ツール使用期間: 1~5か月
Tidio has revolutionized our service!
製品を使ってみた感想: I shared about this in the Pros.. This app will help us save lives of people who come to our website in extreme life crisis, thinking the only way out is to take themselves out. I have already seen even through the chatbot that this will save their life. We've already had it happen once in a live chat I conducted, in the first few minutes of activating the app on our website.
良いポイント:
I rated everything the highest. Why? Because Tidio is an amazing tool that takes customer engagement off the charts! So easy to use, and they have thought of everything when it comes to engagement, live chat, bot, analytics, tracking, data... There is so much in this app to use.. I've only been a customer for just a few days, and I am finding it hard to stop using the app, setting up our custom bots, live chatting with users on our website... it is just the most amazing way to help people who come to our website who are experiencing a life crisis. This app WILL save lives.. It already has!
改善してほしい点:
Allowing the user the option to select if they would like the chat transcript emailed to them would be nice! An auto assigner to an operator for the chatbot would be good as well. It would make managing the chats a bit easier. Other than that..I can't think of anything!