Pike13の概要
Pike13 business management software is an easy to use all-in-one business solution. Handle scheduling, attendance tracking, in-depth business reporting, payroll, staff and client management with Pike13. Through the Pike13 app & your website portal, members can book & pay for services online & on their phones. Reduce no-shows with automated reminders, build your brand up with a custom app, & improve member retention. Pike13 tech support is constant. Data migration & training is included.
Pike13の対象ユーザー
Pike13 simplifies administrative tasks for class-based businesses with an easy-to-use scheduling & client business management software. Get started for free today and receive 50% off your 1st month.
---
利用可能な国
アメリカ合衆国, イギリス, オーストラリア, カナダ
利用可能な国
アメリカ合衆国, イギリス, オーストラリア, カナダ
Pike13の動画と画像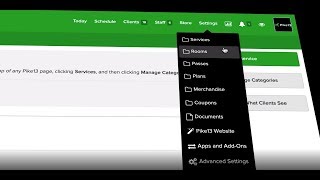 Pike13の機能・特徴
CRM
SMSメッセージング
アポイントメントのスケジューリング
アポイントメント管理
アラート/通知
イベントカレンダー
イベント管理
オンライン予約
オンライン決済
オンライン登録
カスタマー管理
カレンダー同期
カレンダー管理
キャンセル管理
クラスのスケジューリング
クラス登録
クラス管理
グループのスケジューリング
グループ登録
サブスクリプション計画管理
サードパーティ統合
スケジューリング
スタッフ・スケジューリング
スタッフ管理
セルフサービスポータル
セルフチェックイン/チェックアウト
タスク管理
チーム管理
パフォーマンス測定基準
ペット誕生日の追跡
マーケティングの自動化
メンバーシップ更新
メンバーシップ管理
メンバー・コミュニケーション
メンバー・タイプ
メンバー・ディレクトリ
メンバー・データベース
メンバー・ポータル
メール・マーケティング
モバイルアプリ
モバイル・アクセス
ヨガ/ピラティス・スタジオ向け
リアルタイム・スケジューリング
リマインダー
レポートと統計
レポート/分析
予約管理
会費管理
保護者ポータル
保護者/生徒ポータル
出席管理
出席者追跡
出席追跡
割引管理
可用性管理
契約・ライセンス管理
広報管理
従業員管理
教職員管理
時間・支出追跡
決済処理
生徒管理
登録、オンボーディング
登録確認
登録管理
確認、リマインダー
継続課金/サブスクリプション
自動スケジューリング
訪問者管理
請求、インボイス
財務管理
販売時点情報管理 (POS)
通信管理
電子決済
音楽学校向け
順番待ちリスト管理
顧客データベース
顧客プロフィール
顧客ポータル
顧客管理
Marissa
アメリカのIndependent Business Owner
認証済みLinkedInユーザー
We LOVE Pike13. They offer everything a small studio, or a large gym needs to operate.
良いポイント:
Ease of use, and reliability are amazing! But my FAVORITE thing is definitely the staff app. I can do almost everything from the staff app, so I can work from anywhere, at any time. From running payroll to creating packages or plans, it does it all. Most apps come with limited function, but this software is almost as complete as the desktop version. And what I love about the company is they are always trying to get better. We have been users for man years and they add things I haven't even thought about needing. Its a pleasure to be a customer.
改善してほしい点:
The reporting can be a bit confusing for me. Recently they have added a new reporting feature which has much more information, but I still struggle trying to see exactly what I need at times. But I cant even call it a complaint. I had to really think of something to answer this question.
Pike13からの返信
4 年前
Hi Marissa, Thank you so much for the feedback. We truly appreciate knowing what works and what our customers would like to see. As questions come up about reporting, please continue working with our customer care team and your account manager. We are happy to have calls to help you build exactly what you need to see. Thank you, Cindy Schneider Manager, Customer Success
Rebekah
アメリカのbusiness owner
エンタテインメント, 2-10の従業員数
ツール使用期間: 2年以上
検討した類似製品:
Outstanding Software!
製品を使ってみた感想: Absolutely 100% positive and fantastic experience. Customers comment on how easy it is to use and I greatly value this software.
良いポイント:
I love how versatile it is. i need to be able to run both monthly tuition for regular, weekly classes, plus courses plus punch cards, as my business serves many different populations. I love how easy it was to set-up and how easy it is for my staff to learn. I don't have to provide training for new employees. For the weird times things don't go as planned, customer service is on top of it, very speedy, thorough and helpful.
改善してほしい点:
The reporting end is so versatile that I don't know how to easily pull up reports. there are so many ways to filter, which can be a good thing, but I don't know how to pull it up. I wish I could get notifications when someone buys a particular package that I am waiting to get sold.
Pike13からの返信
3 年前
Hi Rebekah, Thank you so much for taking the time to provide a review of our product. We appreciate the comments and the feedback! Thank you, Cindy Schneider Director of Customer Success
Kimberly
アメリカのBusiness Owner
健康、ウェルネス、フィットネス, 11-50の従業員数
ツール使用期間: 2年以上
検討した類似製品:
Limited features and terrible customer service
良いポイント:
Pike13 is easy to set up and easy to use for the most basic services.
改善してほしい点:
Features are limited, reporting is also limited. Website navigation is not user friendly or intuitive (until recently there was no "back" button and even now the "back" button is limited to a small range of functions. Customer service can be responsive, but generally is unable to do much to help you.
Pike13からの返信
2 年前
Hi Kimberly, Thank you for providing your feedback on our software. I am sorry to hear that our customer service was lacking and will do a deep dive into the interactions our team had with your business and coach where needed. We wish you the best going forward. Thank you, Cindy Schneider Director of Customer Success
Michelle
アメリカのGeneral Manager
音楽, 11-50の従業員数
ツール使用期間: 2年以上
Great "real time" scheduling
製品を使ってみた感想: Pike13 has everything we need and continues to evolve and change with the business. I really do like the most recent update!
良いポイント:
This software processed our monthly billing, scheduling, cancellations, and more. If this software went down, we wouldn't be able to operate our business. Thankfully, in the 7+ years I've been using it, I haven't had to worry about that.
改善してほしい点:
I wish that we were able to send emails to a whole schedule for the day. For example, if we need to send an informational email to our schedule, we have to do that for each person. We are able to cancel a whole day, just not send them a mass communication without cancelling.
健康、ウェルネス、フィットネス, 2-10の従業員数
ツール使用期間: 2年以上
検討した類似製品:
Used Pike13 (formerly FrontDesk) for years
製品を使ってみた感想: Overall I was pretty happy the experience, eventually we decided to part ways though.
良いポイント:
Very stable platform, app made it easy to access / manage remotely.
改善してほしい点:
I was a grandfathered user on an older plan - I eventually left since I got tired of having limited access to reports and metrics that would be included if I 'upgraded'
Pike13からの返信
2 年前
Hi Dan, Thank you for taking the time to provide a review even after switching platforms. It is great to hear from all of our customers, past and present. We hope you are doing well. Thank you, Cindy Schneider Director of Customer Success