Schedulicityの概要
Schedulicity is an all-in-one scheduling software that features appointment booking, class management, digital marketing, and payment tools.
Check your calendar and adjust appointments on the go, customize waivers and policies, and use our Waitlist feature for overbooked classes.
Set up automatic emails and text reminders to cut down no-shows, and get paid (and tipped!) faster with built-in payment processing and our pay-by-text tech, Norm.
Schedulicityの対象ユーザー
Service-based and client-focused small businesses that operate via appointments, classes, workshops, and more.
---
企業情報
Schedulicity
所在地:BOZEMAN (アメリカ)
2009年設立
企業情報
Schedulicity
所在地:BOZEMAN (アメリカ)
2009年設立
Schedulicityの動画と画像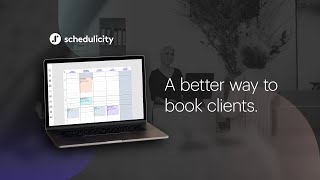 Schedulicityの機能・特徴
Webサイト統合
アクティビティ・ダッシュボード
アポイントメントのスケジューリング
アポイントメント管理
アラート/通知
イベント管理
オンライン予約
オンライン決済
カレンダー同期
カレンダー管理
クラス管理
サロン・スパ向け
スケジューリング
スタッフ管理
ソーシャル・メディア統合
デビットカード/クレジットカード処理
マルチロケーション
メンバーシップ管理
メール・マーケティング
モバイル・アクセス
ヨガ/ピラティス・スタジオ向け
リアルタイム・スケジューリング
リマインダー
レポートと統計
予約管理
出席追跡
可用性管理
定期アポイントメント
広報管理
従業員スケジューリング
従業員管理
決済処理
確認、リマインダー
自動スケジューリング
連絡先管理
電子決済
顧客データベース
顧客プロフィール
顧客管理
CharRon E.
アメリカのOwner
認証済みLinkedInユーザー
エンタテインメント, 2-10の従業員数
ツール使用期間: 6~12か月
検討した類似製品:
Hip to Schedulicity
製品を使ってみた感想: I can setup my service and have them ready for the client. It is a good start up if you need something. Plus you can set it up with Instagram and facebook pages.
良いポイント:
Schedule system is easy to use. I can setup a class or service list and let the client pick what they want in service. Manage my team agendas and hours. add a landing page for my website
改善してほしい点:
To get full access to the program, you need to get a payment plan. The free plan works well if you are starting out and trying to get booking of client but you only get 10 bookings a month.
Andreanne
カナダのFlexibility and mobility trainer
健康、ウェルネス、フィットネス, 自営業
ツール使用期間: 2年以上
検討した類似製品:
Easy to use + Outstanding customer service
製品を使ってみた感想: Outstanding customer service. Very helpful and resourceful staff, I always got a prompt and warm response to my inquiries. I felt supported and well cared for.
良いポイント:
Very simple and intuitive setup process. Super user friendly. Loved the add-on format for selecting the services I needed, not paying for features I wouldn't use.
改善してほしい点:
I would have loved to be able to translate all of the automated emails for my francophone clients and be able to offer them with access to their accounts on a French platform but overall I was so satisfied with the product I found it was worth working around this minor issue!
健康、ウェルネス、フィットネス, 自営業
ツール使用期間: 2年以上
検討した類似製品:
Served its purpose
製品を使ってみた感想: Great experience. Great program. Excellent customer service. Just outgrew the program
良いポイント:
It was an easy program to manage and for patients to use.
改善してほしい点:
It was lacking some features I needed, such as online scheduling and insurance billing options.
Mindy
カナダのPersonal Trainer
認証済みLinkedInユーザー
健康、ウェルネス、フィットネス, 自営業
ツール使用期間: 1年以上
ソース:GetApp
Extremely useful yet comes with glaring unacceptable cons
製品を使ってみた感想: I'm ready to leave Schedulicity because it has been over a year since they said certain features would be "coming soon to Canada" and they haven't yet.
良いポイント:
I like how easy it is to customize group fitness/class settings to suit the unique needs of my business. I believe this platform comes with a high number of features for the price, so many would likely consider this high value.
改善してほしい点:
PACKAGES: I think it is unacceptable that a business can add tax to any products or services EXCEPT PACKAGES. It makes absolutely no sense why I can charge my clients tax for personal training, group fitness but NOT packages/class session packs which is how I sell most sessions to clients. Schedulicity suggested that I just include taxes on my listed prices for packages. This is a terrible suggestion as the pricing will appear high, at a glance, when packages are supposed to appear to be reduced in price. Also, Schedulicity boasts all over their website about how they make it easy for business owners to track taxes and run reports etc. yet since I sell a lot of packages I can't simply run a report to see how much tax I have collected in a year. With Schedulicity's suggestion to include tax in my packages I'd have to create extra accounting steps for some purchases but not others. CLIENT USER EXPERIENCE: In the client App it is hard for a client to see the details of classes they sign up for. There is a tiny "i" that the client has to tap in order to open a window to show them the location and extra details about their booking... none of my clients have ever been able to see this "i" button on their own so they just text me unnecessarily with questions that should be easier to find in their app. PUBLIC BUSINESS LISTING: Any service or product that you create for your own needs behind the scenes like freebies or one-off visits are visible to the public incl. pricing.
April
アメリカのOperations director
非営利団体運営, 2-10の従業員数
ツール使用期間: 6~12か月
Schedule with schedulicity
製品を使ってみた感想: I definitely would recommend this for a large or very amazing organization that wants to stay focused and business oriented and professional
良いポイント:
There are so many great features to this application. Weather is that you're doing just appointment keeping or managing calendars or actually using it for yoga/salon services or one of the numerous other applications and features of this app offers it is phenomenal for keeping your business or organization completely organized. The online payment portion is incredible because you can make sure that everything is paid for upfront and the fear of having a no call no show or someone like you off and nothing being paid for isn't any fears anymore.
改善してほしい点:
Some of the cons are that sometimes it's not as user-friendly for some people as it is for others. I think it offers so much that sometimes it can make it harder for some people in order to be able to use